IoT, M2M & SMART METERS
ANTENNAS
Smart Connectivity
Internet of Things (IoT) and Machine-to-machine (M2M) devices are often
placed in areas with bad signals. Think of Smart Meters that are housed in
metal boxes, IoT devices that are used in factories or M2M units that are
placed in the basement of an office block. Reliable communication will
make or break the usability of your solution, therefore a good antenna
is essential. Poynting Antennas has a wide variety of fit for purpose
antennas solutions for IoT, M2M and smart metering applications.
These include antennas for smart utilities (smart power metering,
gas and water), smart buildings, digital signage, smart environmental
and water systems, warehouse and logistic systems, industrial automation
as well as farming and agricultural M2M and IoT.
View All IoT Antennas
Need Help?
PUCK-SERIES
OMNI-DIRECTIONAL ANTENNA
Poynting's PUCK series offers a small profile antenna for use in the IoT, Smart Meters and M2M markets. The PUCK series offers a variety of options for MIMO LTE/5G (617 to 4200 MHz), MIMO Wi-Fi (dual band 2.4 GHz & 5 to 6 GHz) and GPS/GLONASS within the same enclosure, while keeping implementation as simple as possible with its many mounting options.
Where the XPOL-1-5G is an omni-directional antennas, while the XPOL-2-5G is a uni-directional antenna. The XPOL-1-5G antenna offer wideband performance from 617 to 4200 MHz, covering contemporary LTE/5G frequency bands, with a peak gain of 6 dBi across the band. The antenna also offers 2×2 MIMO and 4×4 MIMO for improved performance.
Read more
The XPOL-2-5G antennas, which are uni-directional, offer exceptional performance and wideband coverage from 617 to 3800 MHz with 2×2 MIMO performance. Due to the uni-directional radiation pattern, the antennas achieve a peak gain of 11 dBi within a single direction. The XPOL-2-5G series covers popular LTE/5G frequency bands for future proof deployment. The radiation patterns of the XPOL-5G series are exceptionally well controlled, further adding to the performance of the antennas. The robust mechanical enclosure design of the XPOL-5G series ensures that the antennas are weather, dust and vandal resistant and give it an IP65 rating, suitable for harsh environments.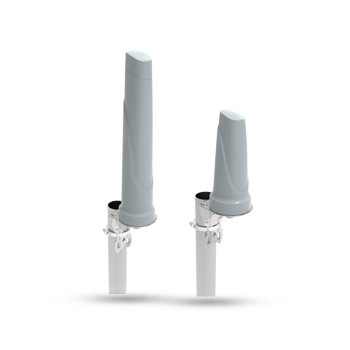 OMNI-700-SERIES
OMNI DIRECTIONAL WI-FI ANTENNA
The OMNI-700 series antennas, form part of our latest "Rhyno" antenna range and offer a small profile antenna for use in the IoT/M2M, Smart Meter, Smart Utilities, and Industrial markets.
The OMNI-700 antenna series offers various configurations for covering the popular Wi-Fi frequency bands namely, the 2.4 GHz and 5 to 6 GHz bands with gains varying from 4 to 8 dBi. The OMNI-700 series antennas were specifically designed to be rugged and ideal for operation in harsh environmental conditions.
Read more
The series features an IP69K protection rating, which indicates that the antennas are dustproof and protected against high pressure, high temperature spray downs at close range. It also features an IK10 impact rating, making the antennas ideal for industrial IoT/M2M and mining applications.
OMNI-297
OMNI DIRECTIONAL, WIDEBAND LTE/5G POYNTING RHYNO ANTENNA
The new OMNI-297 antenna forms part of our new Poynting "Rhyno" antenna range. The OMNI-297 is a wideband cellular antenna that operates from 698 to 3800 MHz, covering all the contemporary LTE/5G frequency bands.
The antenna is designed for superior pattern control over the entire frequency range, making the OMNI-297 an exceptional omni-directional antenna for its size. The constant gain across the entire frequency range improves the LTE/5G performance features, such as multi-carrier aggregation (CA).
Read more
The ideal operation for the antenna will be for fixed installations of any cellular bands. It is also ideal for machine to machine (M2M) and internet of things (IoT) applications that communicate through the GSM networks (GPRS/EDGE/3G/HSPA/LTE).